Tognum to Supply Engines for New Ferry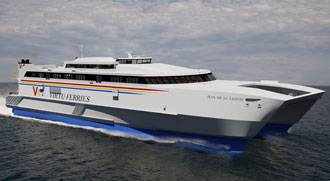 The propulsion system and power generation specialist, Tognum, has won a contract for its Engines business unit from the Australian shipyard Austal to supply four large diesel engines. The 20V 8000 M71L-model MTU engines, each capable of 9,100 kW (12,376 PS), will provide the main propulsion for the new catamaran ferry Jean de la Valetta operated by Virtu Ferries from Malta. The vessel will also use four on-board gensets powered by S60 engines. Virtu Ferries operates high-speed catamaran ferry services between Italy and Malta.

The MTU propulsion system will take the twin-hulled, aluminum "Austal Auto Express 107"-Type vessel and its cargo of 800 passengers, 230 automobiles and 342 truck-lane metres up to a service speed of approximately 39 knots. After commissioning in 2010, the ship will be one of Europe's largest catamaran ferries.

The new contract represents the latest step in the long-standing and successful cooperation between the Tognum Group and Austal shipyards. Up to the present, 44 large diesels in the 8000 engine series have been fitted in a wide range of Austal vessels such as the Hawaii Superferry catamarans and the trimaran Benchijigua Express.