Enterprise Products Partners' Offshore Oil Export Terminal to Open by Early 2027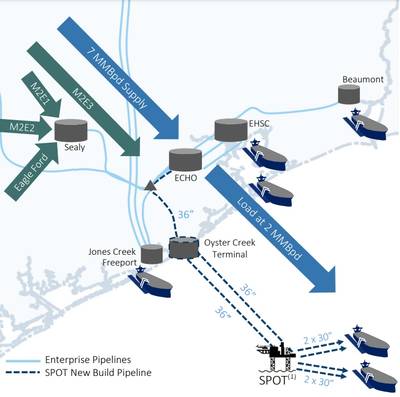 Enterprise Products Partners' Sea Port crude oil export terminal off the coast of Texas could begin operations between the second half of 2026 and early 2027, the pipeline operator's co-CEO said on Thursday.
The terminal, planned for about 30 miles (48 km) off the coast of Texas, is one of several deepwater projects proposed at the height of the U.S. shale oil production boom.
Enterprise Co-CEO Jim Teague disclosed the proposed Sea Port Oil Terminal's start date at an RBN Energy export conference in Houston. Separately, pipeline operator Energy Transfer anticipates receiving a license from the U.S. Maritime Administration in the second quarter of next year to proceed with its proposed Blue Marlin Offshore Port, Adam Arthur, an Energy Transfer executive vice president, said at the conference.
The company submitted an application for approval in late 2020 for the project that converts an existing offshore platform in federal waters in the U.S. Gulf of Mexico so it could load large crude tankers with up to 2 million barrels of oil piped from Texas daily.
The Maritime Administration and U.S. Coast Guard must approve offshore projects.
(Reuters - Reporting by Arathy SomasekharEditing by Marguerita Choy)