UAE Marine Environment Protection Association launched in Dubai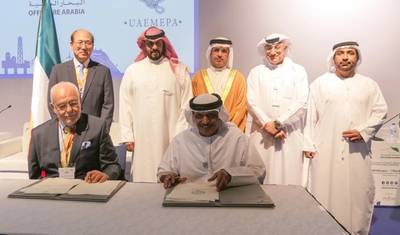 The Director General of HELMEPA, Dimitris C. Mitsatsos and the Chairman of Dubai Council for Marine & Maritime Industries (DCMMI), Mr. Khamis Juma Buamim, signed the Inaugural Declaration to the formation of UAEMEPA, the United Arab Emirates Marine Environment Protection Association.
The signing ceremony took place at the beginning of the 9th Offshore Arabia Conference at Dubai in the presence of the Secretary General of IMO, Mr. Kitack Lim, UAE high standing functionaries and representatives of organizations and companies from within world shipping.
The new MEPA is the 7th consecutive association, to the creation of which HELMEPA contributed, following relevant request of the interested parties. Mr. Kitack Lim congratulated HELMEPA for spreading the volunteer spirit of MEPAs, whose Members sustain the financial operation of the associations. Apart from HELMEPA in
Greece
, these entities are today: CYMEPA (
Cyprus
), TURMEPA (Turkey), URUMEPA (Uruguay), AUSMEPA (
Australia
), NAMEPA (USA), UKRMEPA (Ukraine) and UAEMEPA.
HELMEPA offers the expertise it has gained during the 35 years of its existence to UAEMEPA, together with the wish to succeed in its mission for the protection of the environment in the fragile sea area of the Gulf.