Port of Hamburg Offers Environmental Discount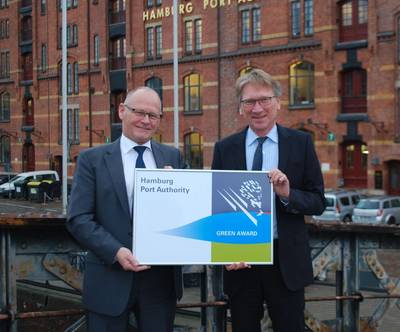 The Hamburg Port Authority (HPA) said its dedication to pursuing the highest standards of safety, quality and environmental protection led them to joining the Green Award scheme as an incentive provider for seagoing ships. From 2014, oil, product and chemical tankers, LNG and, after a launch of the certification program later this year, LPG carriers, that hold the Green Award certificate are eligible for a 3% reduction in port fees when calling at the port of Hamburg.


The port of Hamburg has an active position in promoting safety and environmental consciousness. It carefully chooses options to stimulate shipowners and managers for going above the minimum required legal standards through giving benefits to vessels that are proven to operate on the highest level. From January 1, 2014, the port recognises the Green Award certificate as a proof of such and awards Green Award certificate holders with an incentive. The reduction of 3% in port fees will be given to crude oil, product and chemical tankers and LNG carriers of any size that have been assessed and certified by the Green Award foundation. In order to ensure a better environmental impact, the port of Hamburg will also award Green Award certified LPG carriers as soon as the certification program for this ship type, which is now in development, has been launched.


On January 9, 2014, Wolfgang Hurtienne, Managing Director at Hamburg Port Authority (HPA), accepted a Green Award board and a flag from Jan Fransen, Green Award Managing Director, on the occasion of the Port of Hamburg officially joining the Green Award scheme.


Green Award currently has 241 seagoing vessels and over 500 inland barges certified. Its assessment criteria cover environmental issues, quality and safety, and performance of management and the crew. With this comprehensive approach and a diverse team of the industry's experts supporting the scheme, Green Award secures the quality of its audits and real value of its certificate. And with 34 ports and 20 other institutions providing discounts to certified ships, the scheme motivates shipowners and managers to invest in the improvements on board and ashore and serves as a reliable Corporate Social Responsibility and risk reduction tool for ports.