IMC Envisages Singapore as Global Maritime Hub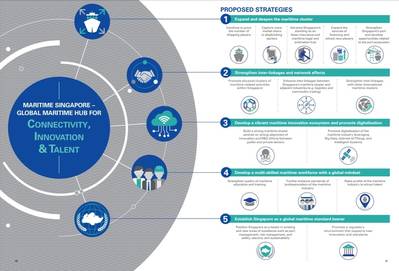 The International Maritime Centre (IMC) 2030 Advisory Committee, established by the Maritime and Port Authority of Singapore (MPA) in August 2016, has submitted the IMC 2030 Strategic Review report to the Singapore Government.
The Committee's vision is for Maritime Singapore to be the Global Maritime Hub for Connectivity, Innovation and Talent.
The Committee, chaired by Mr Andreas Sohmen-Pao, Chairman of
BW Group
, comprises 21 other global business leaders and experts from diverse sectors such as maritime, finance, commodities trading, logistics, finance and technology.
The Committee reaffirmed that Singapore's global hub port and IMC remain complementing twin engines of growth for Maritime Singapore.
The Next Generation Port (NGP) at Tuas will play a key role in attracting key shipping players and driving physical trade flows. Singapore should therefore continue to invest in new port capacity and future capabilities.
The integrated ecosystem of Singapore's IMC, comprising diverse industry players ranging from international shipping groups to ancillary services, and ship repair and conversion, also helps attract non-physical flows such as finance, people, data, and information, which are becoming increasingly important.
Going forward, Singapore's IMC can benefit from the growth of Asia and other emerging markets, new industry opportunities and technological developments.
Andreas Sohmen-Pao said, "The successful growth of Singapore's maritime sector over the past decade has been founded on a clear strategy, effective implementation, and strong alignment between the government and the maritime community. These factors are even more relevant at a time where the outlook is less certain and where the emphasis is shifting from physical to virtual flows. Connectivity, innovation and talent are seen as the best ways to remain responsive to changing conditions, and the report provides action-oriented recommendations to be ready for future challenges and opportunities."
The Committee's vision for Maritime Singapore is centred on strengthening existing clusters of maritime and related activities and creating new ones around Connectivity, Innovation and Talent.