European Shipbuilding Regions Send Signal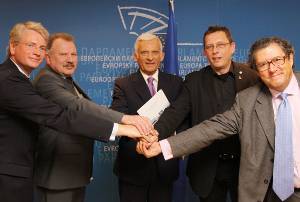 A Joint Declaration by 33 regional governments on the future of the European shipbuilding industry was handed over to Prof. Jerzy Buzek, President of the European Parliament, as well as representatives of the European Council, the European Commission and the President of the Committee of the Regions. Jointly, the 33 Regions consider the future of the European shipbuilding industry as a top priority for their economic development in the coming decades and share deep concerns related to the impact of the global shipbuilding crisis.

Reinhard Lüken, Secretary General of the Community of European Shipyards' Associations (CESA) said: "The joint support from all major shipbuilding regions across the EU underlines the urgency of the issue and the importance of finding joint solutions to the shared worries. The Regions are calling for European leadership. We sincerely hope that the EU institutions take this call up fast. We need decisions." Ruud van den Bergh, Chairman of the Shipbuilding Social Dialogue Group with the European Metalworkers' Federation (EMF) said: "More than 60 million people are standing behind the position expressed in this Joint Declaration of their Regional Governments. Ten thousands of jobs have already been lost due to the crisis. This is an attractive high-tech industry. We do not want to pay the price for unfair competition from Asia or the mistakes of the banks and speculators. We trust in Europe."

The positive response of the EU Institutions during the hand-over is encouraging and CESA and EMF thank in particular President Buzek for his clear support.