Survitec to Unveil Marine Evacuation System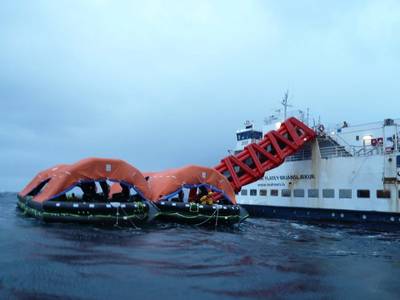 Survitec Group to Unveil its latest technical advance in marine evacuation systems in September at SMM.

During SMM 2012, visitors to the Survitec Group stand will have the first opportunity to observe the new remote life raft launch feature for the world-leading SurvitecZodiac MIS (Medium Inflatable Slide) Escape Slide System.
On display in Hall B1.OG on Stand 600, the innovative feature of the new SurvitecZodiac system enables a second liferaft to be remotely launched after the double track escape slide has been deployed and its first 150 person liferaft has been automatically inflated. By pulling a painter line on the ship, the new development allows the second liferaft to be deployed. Previously it was necessary for a crew member to descend into the first liferaft, from where the second could be inflated.

The development of a remote inflation capability now eliminates the need for any crew to leave the ship ahead of passengers and permits the almost immediate deployment of a second liferaft as soon as the first has been activated. This is expected to save valuable seconds of vessel evacuation time for passengers and crew.

The SurvitecZodiac range of Marine Evacuation Systems is already at the forefront of escape slide performance, with this particular Escape Slide System offering high speed evacuation of 731 passengers in 30 minutes, when used with SurvitecZodiac Throw Over 150 person canopy liferafts. When used with SurvitecZodiac Open Reversible Inflatable 151 person open liferafts, 397 passengers can escape in 17 min 40 sec.

All liferafts used by the new system are of the SurvitecZodiac Aspirator type and weighing in at just 490kg, makes a significant, overall weight reduction possible when compared to a regular Throw Over, Self Righting 150 person liferaft weight of 840kg. This demonstrates the system's suitability for use on high speed craft.

GRP containers allow for simple storage of the liferafts and the inflatable slide is folded and rolled around it on a tilting deployment cradle. This ensures that this particular SurvitecZodiac system is suitable for a wide range of vessels including high speed craft governed by the HSC Code, small passenger vessels operating in national waters, military vessels and RO-RO ferries on short international voyages. Come and find out more about the Survitec Group at SMM Hamburg 2012. Hall BG.O1, Stand 600.