Panama Canal, Port Everglades Alliance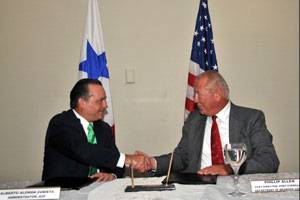 The Panama Canal Authority (ACP) signed a Memorandum of Understanding (MOU) with Port Everglades yesterday. ACP Administrator/CEO Alberto Alemán Zubieta and Port Everglades Director Phillip C. Allen signed the MOU during a ceremony held in Panama, agreeing to encourage new business and trade between both organizations.

By signing the MOU, the ACP and Port Everglades agree to exchange information about their latest modernization efforts. The ACP and Port will also work together to promote maritime trade. This could include joint advertising programs, data interchange, and competitive market analyses of the shipping industry.

The total value of economic activity at Port Everglades is almost $18b and approximately 185,000 Florida jobs are impacted by the Port. Port Everglades' trade through the Panama Canal with the Far East and West Coast of South America reached 909,893 short tons in fiscal year 2008 or 15 percent of Port Everglades' containerized cargo throughput.

Currently, the Port is working toward increasing capacity to handle the larger ships that will transit the Canal post expansion. Slated for completion in 2014, the Panama Canal expansion project will build a new lane of traffic along the Panama Canal through the construction of a new set of locks, which will double capacity and allow more traffic and longer, wider ships.

Port Everglades has a roadmap for the future through a comprehensive Master/Vision Plan – including a five-year Capital Improvement Plan, and 10- and 20-year Vision Plans – that is designed to guide the seaport's growth efficiently. This Master/Vision Plan, approved in December 2007 by the Broward County Board of County Commissioners, includes an assessment of changing business trends and adjustments that have resulted from the post-9/11 environment. The Port Everglades Master/Vision Plan is estimated to cost a total of $2b over a 20-year period.