New Evergreen Container Ship Flies Red Ensign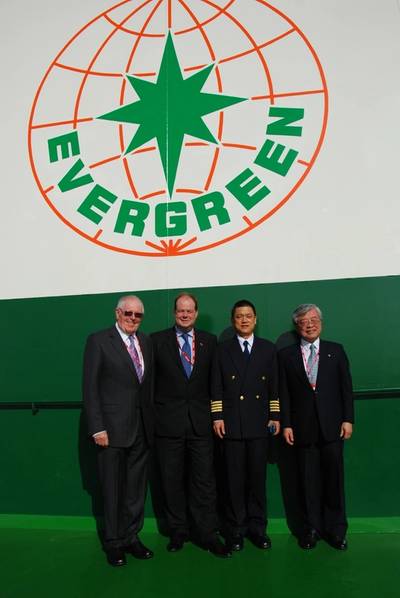 'Ever Leading' welcomed at container terminal Felixstowe, UK, on maiden voyage, the third Evergreen L-Type on UK shipping registery.

The new container ship is owned by Evergreen Marine (UK) Ltd. is 334 meters in length, 45.8 meters wide, with 942 reefer plugs and a draft of 14.2 meters. The L-type vessel can cruise at a speed up to 24.5 knots.

The latest L-class containerships meet the standards of international regulations for environmental protection and can reduce CO2 emission by 15 percent compared to the carrier's earlier award-winning S-class eco-ships.

To meet fleet upgrading and customers' future capacity demand, Evergreen Group commenced a new shipbuilding project in 2010 with an order of 20 L-type vessels from Samsung Heavy Industries. Evergreen placed an order for another 10 vessels of the same specifications with Taiwan Shipbuilding Corp in 2011. Seven of the 30 new buildings are expected to be delivered by the end of 2012.

Dignitaries attending included UK Shipping Minister Mr. Stephen Hammond, Maritime London Chief Executive Mr. Doug Barrow and the Chamber of Shipping (COS) Chief Executive Mr. Angus Frew. Guests were also welcomed from the Department for Transport (DFT), Maritime Coastguard Agency (MCA), Hutchison Port Holding Limited (HPH),ABS Europe Limited, Maritime Transport Limited, Lloyd's Register of Shipping (LR), Class NK and the media.