Evergreen Social Responsibility Award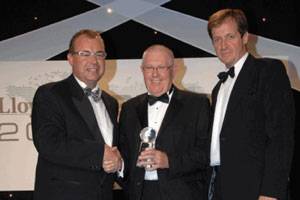 The Evergreen Group was honored with "The Corporate Social Responsibility Award" on September 8 at the presentation of the 2009 Lloyd's List Global Awards.

The award recognizes the leadership demonstrated by the Evergreen Group for its efforts aimed at safeguarding the environment. Evergreen provides disaster relief and other welfare programs through the Chang Yung-Fa Foundation and supports cultural promotion and educational initiatives through Evergreen Symphony Orchestra and Evergreen Maritime Museum.

The award was presented at a gala dinner staged in the Royal Lancaster Hotel in London and was accepted by Maurice Storey, Honorary Chairman of Evergreen Marine (UK). The event was attended by many leading figures in the shipping industry that gathered for the presentation.

Since the establishment by Evergreen Group Chairman Dr. Yung-Fa Chang on September 1, 1968, Evergreen has retained the position as a global transportation giant with comprehensive land, sea and air networks. Dr. Chang believes most strongly in the concept of giving back to society and is committed to helping people to lead a better life.

The Group's most recent commitment concerns Typhoon Morakot, which swept through southern Taiwan in August and caused the worst flooding on the island in half a century. Evergreen Group Chairman Dr. Chang mobilized all his companies to offer relief efforts for the victims. He personally donated $3m with another $12m from the Evergreen Group.