Excelerate FSRU Hits Milestone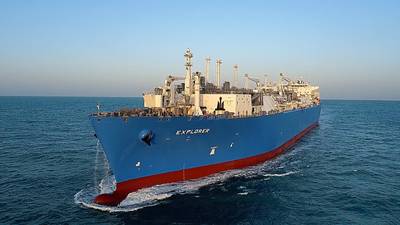 Excelerate Energy said t its newly upgraded floating storage and regasification unit (FSRU) Explorer recently completed its sendout performance tests and reached a sendout capacity of 1.0 Bcf/d – an unprecedented milestone for an FSRU.
The FSRU is currently under long-term charter to Dubai Supply Authority (DUSUP) at the Jebel Ali LNG Import Terminal.
"We approach each of our projects as partnerships and work closely with our customers, like DUSUP, to provide a tailored solution that will serve their specific needs for the long run. We are committed to investing in the advancement of our technology to achieve this," stated Rob Bryngelson, president and CEO of Excelerate.
To meet the increasing demand for
natural gas
in the Emirate, DUSUP entered into a long-term Time Charter Party Agreement with Excelerate in 2014 for a larger and more efficient FSRU to replace its existing regasification vessel. Under the agreement,
Excelerate upgraded
the Explorer and customized the FSRU to meet DUSUP's supply requirements.

The Explorer entered dry-dock for its efficiency upgrades in October 2015 with the modifications being completed in December 2015.
Excelerate has enhanced the Explorer with the following advanced features:
New high-pressure (HP) vaporizers and HP pumps were installed to increase regasification sendout capacity from 690 MMcf/d to 1 Bcf/d. The increase in regasification capacity will allow DUSUP to import more LNG cargoes during the year providing greater flexibility for DUSUP to adapt to market conditions.
A dual-fuel diesel generator power module was added to the FSRU. The module provides more fuel-efficient power generation for FSRU services.
Another significant upgrade to the vessel was the addition of the world's first LNG bunker port installed in an FSRU. The bunker port enables small-scale LNG offtakers to bunker LNG directly from the Explorer. This added versatility allows Excelerate to facilitate DUSUP in providing small-scale LNG supply services to the local region.

"Also significant is that even though the Explorer was commissioned in 2008, with upgrades, she has achieved the highest sendout rate of any FSRU in the world," continued Mr. Bryngelson. "Proving that a newbuild FSRU is not always the best option, especially when timing is critical."