Simwave Maritime Center of Excellence Opens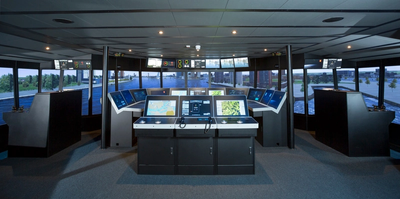 Simwave B.V. and Kongsberg Digital have completed the Site Acceptance Test (SAT) of one of the largest, most advanced maritime simulation suites ever delivered. The SAT, which took place January 19, means that the new Simwave Maritime Center of Excellence in Barendrecht, Rotterdam is now fully operational.

As the sole simulation technology partner in the development of the unique Simwave facility, Kongsberg Digital delivered the full scope of work in accordance with the contract awarded in April 2017, which represented one of its most extensive deliveries to date. Following the SAT, all technical aspects of the delivery, a unique new floor projection system and a complete integrated engine room, are performing above expectations.

Simwave's training facility covers more than 5,000 m2 across two floors containing state-of-the-art KONGSBERG simulators, meeting rooms, offices and welfare facilities. The next step in the Simwave project is to develop a hotel facility on the top floor of the building for customers and trainees, enabling training to take place 24 hours a day, 7 days a week; a key differentiator in Simwave's unique approach to maritime training.

Simwave's innovative and disruptive take on maritime training allows customers of any size to train in its integrated simulator park, either with their own instructors, Simwave instructors, or external instructors, all tailor-made to customers' needs. The first training courses have already been successfully accomplished and the response to the Simwave service and the Kongsberg simulators has been wholly positive.

"The first reactions from clients and participants have been overwhelming," said Marcel Kind, Managing Director of Simwave. "We have a team of educational and maritime specialists from around the world on hand and this dream team, our partnership with Kongsberg Digital and our long-term vision on how to improve the learning experience in the maritime sector enables us to bring new customer benefits to the training value chain."

Kongsberg Digital's full simulator scope of supply for the Simwave facility covers multiple full-mission and part-task simulators for ship's bridge and engine room operations, all based on the latest simulator technology platforms. The contract also includes a five year Long Term System Support Program (LTSSP) which guarantees dedicated support and access to technology updates, in addition to a planned mid-life upgrade at the end of the LTSSP.

"The partnership between Kongsberg Digital and Simwave brings possibilities for further development and allows Simwave to meet its full potential as the training center of choice for the maritime industry," said Tone-Merete Hansen, Senior Vice President, Maritime Simulation, Kongsberg Digital."

The Simwave on-site hotel in Rotterdam is planned be completed in Q2 2018 and the location of the second Simwave center of excellence is expected to be announced by the end of the year.