Work Boats Exchange Roster Gains Momentum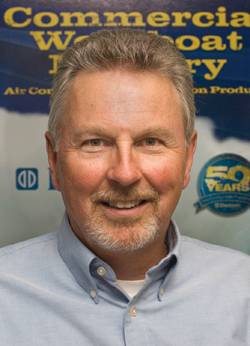 Work Boats Exchange: A New Hosted Commercial Marine Buyer's Event is set for the Ritz-Carleton in Fort Lauderdale April 2012
Regardless of industry, the ability to continually meet potential new clients is the cornerstone to any company's success. While the marine industry is well armed globally with traditional exhibitions, an emerging concept — the Hosted Buyer Event — is gaining steam as a viable and productive means to earn new business.
"Hosted Buyer Events are quite commonplace on the automotive side of ZF's business," said David Santos, Product Line Manager – Commercial Craft,
ZF Marine LLC
. "Our automotive counterparts attend these events regularly and commonly point to them as some of the most successful meeting opportunities they can have with both potential and existing clients. Hosted Buyer Events put the right people from both sides face to face. It allows ZF to present our technology to the people who most need to hear about it, in a relaxed and distraction free environment."
Maritime Reporter & Engineering News is, for the first time, serving as exclusive media partner to Work Boats Exhchange, a hosted commercial marine buyer's event produced by Global Exchange Events, a rising star in the creation of industry-leading Hosted Buyer Events market. The event is building a small but exclusive list of executives in vessel owning companies to meet with a similiarly small and exclusive group of marine builders, equipment and service providers, including Dometic Marine and ZF, scheduled for April 9-12, 2012 at the Ritz-Carlton Fort Lauderdale.
"We see this as the perfect complement to trade shows," said Rob Ingraham, CEO of Exchange Events. "After participants have had a chance to really see what's out there at the shows, our events offer a second round of very focused one-on-one meetings between fleet owners and marine suppliers that are ready to discuss new business development and close deals. It just works."
Just because it's more intimate, it does not mean that success is guaranteed just walking in the door. Ed Todd, Director of OEM Sales at Dometic Marine, participated in a similar event early in 2011 to great success, and he advises on how to make the most of your investment.
"I think the main thing is focus, as you don't have a whole lot of time," said Todd, "In a traditional trade show you have a 40 x 60 with a lot of equipment and noise; this is one on one or two on one, and it's an intense, concise, concentrated focus. When I first went in, I didn't go in with a canned speech, I more or less used it as time to interview people. You have to be astute and targeted."
Maritime Reporter, will act as the exclusive sponsoring publication of Work Boats Exchange. "The support of New Wave Media and their innovative publications can't be overstated," said Karen Kelly, EVP of the Work Boats Exchange. "We know how valuable our events are for promoting partnerships and we're thrilled to be working
with Rob Howard
(Senior VP, New Wave Media/Marine Link) and his team on the commercial marine industry's newest hosted buyer event."
'In this industry trade shows will continue to play an important role in the marketing mix, but there are limitations. The current economy dictates that companies can no longer afford to send all of the people they would have previously sent to these shows," said ZF's Santos. " The result is that the right people may not be there to see you, or see your product offering. That represents many potentially missed opportunities on both sides. Also, trade shows are large and there are lots of distractions. Sales staff are being pulled in different directions and attendees are trying to knock out their "visit list" with only so many hours to attend the show. There's just too much going on to facilitate deeper discussions. Work Boats Exchange will take away the "noise" and create an environment for a clear exchange of ideas."
For more information, contact:
Tel: 978-263-1334
Email: kkelly@exchangeevents.com
www.workboatexchange.com