Austal Expands to San Diego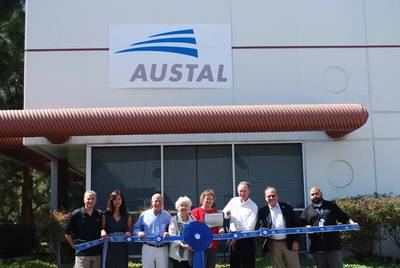 Office to provide local support to LCS and JHSV programs.

On October 8th, Austal celebrated the opening of our San Diego, Cal., Operations Office with a ribbon cutting ceremony. Joining Austal's representatives at the ceremony were Mayor Cheryl Cox of the City of Chula Vista; City Councilwoman Pamela Bensoussan; Michael Meacham, Director of Economic Development for the City; and Admiral Jose Betancourt, USN (Retired).

The building, located at 745 Design Court, Suite 602, Chula Vista, CA 91911, is a 7,350 square-foot combined office/warehouse facility. Since Austal's business is expanding to include fleet support, establishing an office in this location will allow Austal's post-delivery support personnel to use the facility as a base of West Coast operations. As the expert on our ships, we are the logical choice to provide the expertise required for post-delivery operations.

Austal USA's President, Craig Perciavalle, said "Austal is happy to open a West Coast location close to our fleet customer in San Diego." Perciavalle continued, "With a West Coast presence, we will be able to use the waterfront feedback to help make our new construction processes better."

Tim Mahoney, Vice President of Post-Delivery Service and Support commented, "We are very excited to be able to work with the Sailors who operate our ships. This will allow us to be more responsive to our LCS and JHSV ships on the West Coast."

Austal has been contracted to build ten 127-meter Independence-variant Littoral Combat Ships (LCS) for the U.S. Navy as prime contractor subsequent to a $3.5 billion block buy in 2010. Six LCS are currently under construction; Jackson (LCS 6) was christened in March and is preparing for sea trials later this year; Montgomery (LCS 8) was launched in early August; Gabrielle Giffords (LCS 10) is being assembled in preparation for launch later this year; and construction is well underway on Omaha (LCS 12) and Manchester (LCS 14). Fabrication started on Tulsa (LCS 16) last month.

Austal is also prime contractor on the U.S. Navy's Joint High Speed Vessel (JHSV) program, currently a ten-ship contract worth $1.6 billion. Austal has delivered four of ten contracted JHSVs in two years to the Navy. Trenton (JHSV 5) was launched at the end of September and construction is well underway on Brunswick (JHSV 6) which began final assembly in early October. Construction began on Carson City (JHSV 7) in Austal's Module Manufacturing Facility (MMF) earlier this month as well.