Panama Canal Expansion: More Lock Gates Arrive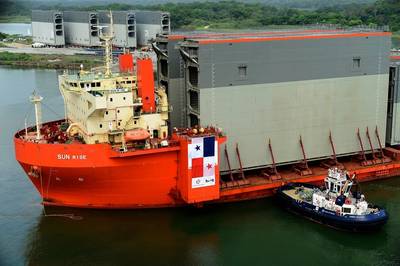 The Panama Canal Authority (ACP) informs that the second shipment of four rolling gates for the Third Set of Locks to the waterway's Atlantic side has arrived from the Port of Trieste, Italy, on board the semi-submersible vessel 'STX Sun Rise'.
"This is another milestone as it completes half of the 16 gates that will be used in the new locks", said the administrator of the Panama Canal Authority, Jorge Luis Quijano.
Differing from the first shipment, these gates have two different dimensions, according to their final position in the lock chambers.

The taller ones or "Type C" were fabricated for lock head number 3 in the middle chamber of the Pacific locks. These gates are 57.6 meters long by 10 meters thick and 31.9 meters tall and weigh approximately 3,900 tons, with all internal appurtenances installed.
The shorter ones or "Type A" will be located in lock head 1 in the Atlantic site's upper chamber, adjacent to the lake. They are 57.6 meters long by 8 meters thick and 22.3 meters tall, and weigh approximately 2,300 tons.

The four rolling gates will be disembarked in the dock especially built for this purpose on the Atlantic side. While the two gates destined for the Atlantic complex will remain in the staging area until the time of their installation, the other two will be transferred to the Pacific site once the installation of the concrete supports is completed in the dock built for their unloading.

Gate fabrication, which started in October 2011, is being conducted by Italian subcontractor Cimolai SpA.

ACP adds that a total of 76.3 % progress has been achieved under the Canal Expansion Program as of May 31, 2014.