The World's Most Expensive Jones Act Tanker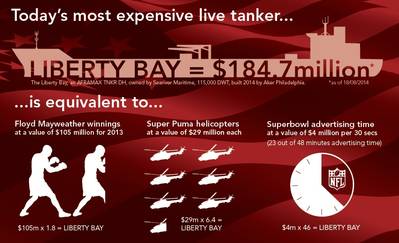 The series highlighting the world's most expensive active vessels from online ship intelligence and information service VesselsValue.com focuses this week on the most expensive tanker vessel, which is not a VLCC but a Jones Act aframax.

The first-in-class double hull tanker Liberty Bay is an 820-foot, 115,000 dwt aframax tanker built this year by Aker Philadelphia and owned by Seariver Maritime. The tanker, which has an 800,000-barrel capacity and supplies crude oil from Alaska North Slope to refineries along the U.S. west coast, prices in at approximately $184.7 million.

To put the ship's value perspective, VesselsValue.com created an infographic showing that Liberty Bay's price is equivalent to roughly:
1.8 x Floyd Mayweather's 2013 winnings ($105 million)
6.4 Super Puma helicopters ($29 million each)
23 minutes of Superbowl advertising time (at a value of $4 million per 30 seconds)
According to our calculations, $184.7 million could buy more than 1.6 million copies of the complete series collection of Gilligan's Island on DVD ($115 each).