Kleven, Lürssen Partner to Build Explorer Vessel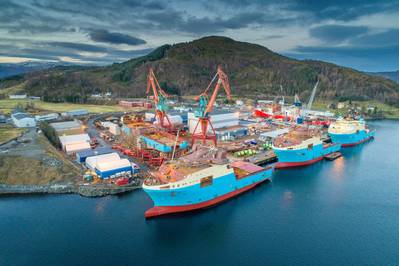 Norwegian shipbuilder Kleven said it has signed a contract with German based luxury yacht designer and builder Lürssen to collaborate for the delivery of a 100-meter-long exploration vessel newbuild for a non-disclosed customer.
Kleven said the vessel will be built, partly outfitted and technically finalized at Kleven Verft in Norway, before final outfitting at Lürssen's Blohm+Voss facility in Hamburg,
Germany
.
Kleven CEO, Ståle Rasmussen, said the exploration vessel project is the first result of the cooperation between long-term partners Kleven and Lürssen.
"The combination of Lürssen's world-known yacht designers, creating custom-built yachts like no other, and Kleven's modern and highly automated shipbuilding facility in
Norway will
provide unrivalled quality to our customers," Rasmussen said. "
Kleven will
be leaning heavily on their expertise derived from building highly advanced, world class offshore vessels."