ExxonMobil Expands MobilGard Supply in Shanghai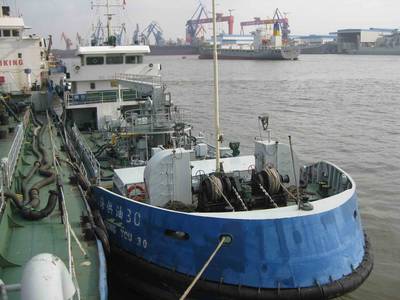 ExxonMobil Marine Lubricants completed the first bulk delivery of Mobilgard 570 cylinder oil in the Port of Shanghai in May. The bulk delivery of Mobilgard 570 was made by Hai Gong You 30, the first double-hulled marine lubricants-delivery barge to operate in Shanghai. Built and owned by China Marine Bunker PetroChina Co. Ltd (Chimbusco), the IMO-compliant barge is 278 deadweight tonnes. It is equipped with state-of-the-art flow meter technology and a 1.5 metric ton crane to ensure accurate and efficient deliveries. The barge is on charter to ExxonMobil for two years.
"We constantly strive to offer our customers not only cutting-edge technology, but also a safe and efficient way of doing business," said Iain White, field marketing manager, ExxonMobil Marine Lubricants. "Offering bulk delivery of MobilGard™ cylinder oil in Shanghai by a double-hulled barge is one of the ways we can do this in a manner that is compatible with the environment and protects the safety and health of those involved."
Mobilgard 570 is formulated with high-quality, heavy neutral basestocks, rather than bright stocks, which have less thermal and oxidative stability. To optimise the oil's performance, ExxonMobil balances individual additive components instead of using an additive package. One of these additives is a patented synthetic thickener technology to increase viscosity, important for engine designs that incorporate higher combustion gas pressures and temperatures, higher stroke/bore ratios and reduced cylinder oil feed rates. The oil also contains proprietary performance-enhancing detergents, dispersants, anti-oxidants and anti-corrosive additives. In addition to helping extend piston overhaul intervals, Mobilgard 570 helps increase engine reliability, providing outstanding thermal stability and acid-corrosion protection. It also promotes cleanliness and reduces the amount of waste cylinder oil requiring disposal, thus allowing ship operators to be more environmentally responsible.
Mobilgard 570 will be replaced by Mobilgard 560 VS later this year. New Mobilgard 560 VS is an advanced variable-sulfur cylinder oil that is formulated to deliver outstanding performance and engine wear protection for slow-speed diesel engines. It is designed for use with residual fuels spanning both high and low sulfur levels.