Eye on Innovation: RNLI's L&R Tractor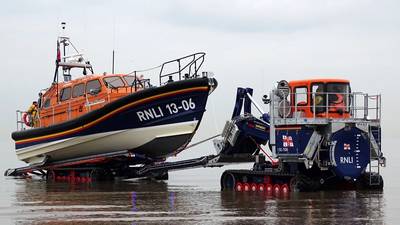 Coming in the April 2019 edition of Maritime Reporter & Engineering News we report on the latest lifeboat to join the fleet of the Royal National Lifeboat Institution, the main sea rescue service in the UK and Ireland, the waterjet-propelled Shannon class, RNLI says is its most agile and maneuverable all-weather lifeboat yet to be deployed.
While the vessel and it's capabilities are amazing, we really like the new launch and recovery system.
A special feature of the Shannon lifeboat is that it was designed to be launched and recovered from a beach via a new faster and safer launch and recovery system: the vessel can also be launched from a slipway or it can lie afloat. The RNLI has also introduced a new launch and recovery tractor, designed in conjunction with high-mobility-vehicles specialist Supacat Ltd, specifically for use with the Shannon. It acts as a mobile slipway: it can be driven directly onto the beach for recovery, a major advantage for lifeboat stations without harbors, slipways or davit systems.
Powered by a 450 hp engine, the 37-tonne tractor is able to carry an 18-tonne Shannon over rough beach terrain, including steep shelving shingle or wet, sticky sand, and can safely launch the lifeboat in up to 2.4 meters of water. In addition, the tractor is watertight and can be completely submerged in high-tide water up to 9 meters deep before being retrieved at low tide.