Hyundai Heavy Wins $2 Billion Offshore Facilities Order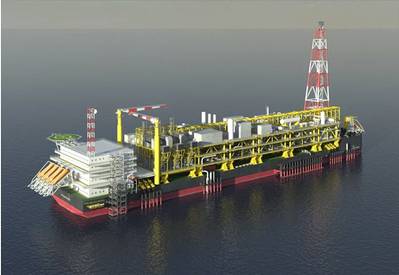 Hyundai Heavy Industries (HHI), a shipbuilder and leading offshore facilities contractor received a letter of award for a $1.3 billion (USD) order for a floating production unit (FPU) and a $700 million order for a tension leg platform (TLP) from Total E&P Congo on March 26.


Hyundai Heavy will carry out engineering, procurement, supply, construction and commissioning for the two offshore facilities to be deployed in Moho Nord field, 80 km off Republic of the Congo's coast.


The 14,600-ton vertically moored floating TLP will be used to extract oil and natural gas and transport those to the floating production unit. The 62,000-tonne FPU, measuring 250 m in length, 44 m in width, and 18 m in depth, will process the received oil and gas and send the products to onshore plants via subsea pipelines. The FPU has a production capacity of 100,000 barrels of oil and 2.5 million cubic metres of natural gas per day.


The TLP and FPU will be installed at the Moho Nord field in the first half of 2015 and 2016 respectively.