Fairmount Tugs Deliver Noble Tamar Jacket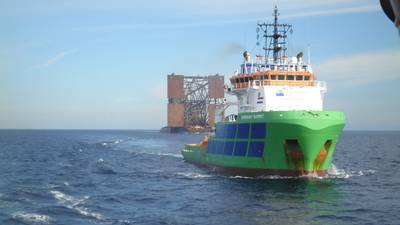 'Fairmount Summit' & 'Fairmount Alpine' tow laden barge from Corpus Christi US to Mediterranean offshore field.

Both tugs towed the barge on which the 18,500 ton jacket was loaded from the US to the field South-East of Cyprus.
In Corpus Christi the jacket was loaded on Heerema Marine Contractor's 260 meters long barge H-851, the world's largest launch and cargo barge.

From this port the convoy set sail for the 9,000 miles voyage, which took only 54 days at an average speed of 6.9 knots to deliver the barge in the Tamar field. Upon arrival the Fairmount Summit and Fairmount Alpine assisted in the launching and installation operations. The Tamar gas field is classified as the largest deepwater natural gas discovery in 2009, with production expected to start in the second quarter of year.
After launching the Tamar jacket Fairmount Alpine was released and went on to her next assignment, while Fairmount Summit continued with barge H- 851 for a 5,150 miles voyage towards the Far East.

Fairmount Marine is a marine contractor for ocean towage and heavy lift transportation, headquartered in Rotterdam, the Netherlands. Their fleet of tugs consists of five modern super tugs of 205 tons bollard pull each, especially designed for long distance towing, and also a multipurpose support vessel.