Fairmount Sherpa Delivered Rig Arctic I in Las Palmas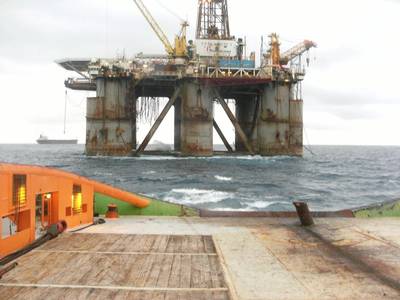 Tug Fairmount Sherpa has safely delivered rig GSF Arctic I in Las Palmas. The rig was towed from offshore Rio de Janeiro, Brazil, to Las Palmas de Gran Canaria, Spain.

GSF Arctic I is a semi-submersible drilling rig for deepwater operations, owned by Houston based Transocean. GSF Arctic I is designed to drill up to depths of 10,000 meters. The rig is 78 meters long and 61 meters wide.

The voyage covered a distance of almost 4,000 miles across the Atlantic Ocean, and with an average speed of 4.1 knots, the destination offshore Las Palmas was reached. Upon arrival offshore Las Palmas de Gran Canaria Fairmount Sherpa performed anchor handling activities for the GSF Arctic I, mooring her on her eight anchors. Once the rig was safely anchored and moored, the Fairmount Sherpa was thanked for her services.