Jumbo's Fairplayer Loads Vacuum Tower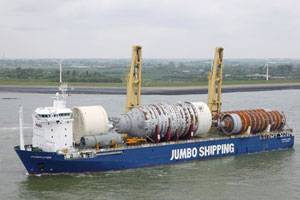 May 13, Jumbo's mv Fairplayer loaded several heavy lifts in the port of Antwerp, Belgium. Among the cargo were two 625mT coke drums, each 42m long and with a diameter of 10m. The prize lift was a 1200mT vacuum tower.

This giant (50m long, 17m diameter) was safely lifted off its supports (including three self propelled modular trailers), all of which were fastened onto a barge. Barge, trailers and tower were positioned in-between the quayside and the Fairplayer.

Prior to the lifting operation all non-essential staff were summoned to leave the heavy lift vessel, thus ensuring a safer working environment for the crane drivers and other specialized heavy lift crew. In about 1.5 hours the tower and its saddles were lifted onto the weather deck, where they were seafastened.

Together with previously loaded cargo, consisting of three reactors and two separators, the Fairplayer has set sail to Port Arthur, Texas, USA to deliver this equipment to the Shell Motiva Project.