Families of 'Duck Boat' Sinking Victims Sue Tour Operator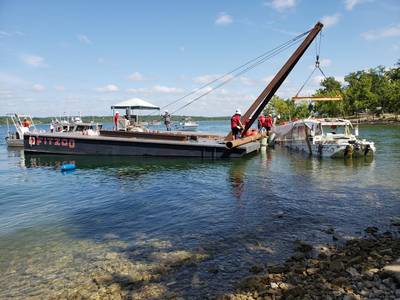 The families of four of the 17 people killed when a World War Two-style tourist "duck boat" sank on a Missouri lake during a storm this month have sued the tour operator, saying it recklessly allowed the vessel out in dangerous weather.

On Sunday, relatives of Ervin Coleman, 76, and 2-year-old Maxwell Ly, his great-nephew, both of Indianapolis, sued tour operator Ripley Entertainment Inc, which operates under the name Ride the Ducks, and vessel manufacturer Amphibious Vehicle Manufacturing LLC, a Ripley unit, alleging they "recklessly risked the lives of its passengers for purely financial reasons."

The lawsuit, filed in federal court in Kansas City, Missouri, seeks $100 million in damages.

A separate lawsuit filed on Monday in Taney County, Missouri, on behalf of the children of William and Janice Bright names Ripley Entertainment, Ride the Ducks and the two operators of the boat, and seeks at least $25,000 in damages.

Ripley Entertainment declined comment on the lawsuits, but said it was "deeply saddened" by the incident.

There were 31 passengers aboard the duck boat on Table Rock Lake, outside Branson, Missouri, on July 19 when hurricane-strength winds churned up the water and sank the craft, causing one of the deadliest U.S. tourist tragedies in recent years.

The boats, modeled on the amphibious landing craft used in the D-Day invasion of Normandy in 1944, have a checkered history involving more than three dozen fatalities on water and land, including the Branson sinking, according to the complaint.

"This tragedy was the predictable and predicted result of decades of unacceptable, greed-driven, and willful ignorance of safety by the Duck Boat industry in the face of specific and repeated warnings that their Duck Boats are death traps for passengers," the federal complaint said.

Robert Mongeluzzi, an attorney for the families of Coleman and Ly, told a news conference on Monday: "The quest for justice includes doing everything within our power to ban duck boats once and for all," according to a statement.

Mongeluzzi represented the families of two people killed when a duck boat crashed into a barge and sank in Philadelphia in 2010, resulting in a $17 million settlement.

The federal suit alleges that Ride the Ducks endangered passengers by letting the boat out on the water after the National Weather Service issued a severe thunderstorm warning for the area, and that passengers were not told to put on life jackets. The National Transportation Safety Board is investigating the cause of the accident.

A duck boat sank in Arkansas in 1999, killing 13 people and prompting the NTSB to recommend changes to duck boats' design to make them less prone to capsizing. The federal lawsuit alleges that Ride the Ducks ignored those warnings because of cost.
(Reporting by Diana Kruzman; Editing by Scott Malone and Peter Cooney)