Goltens Fast-Fixes Dredger Engines in Oman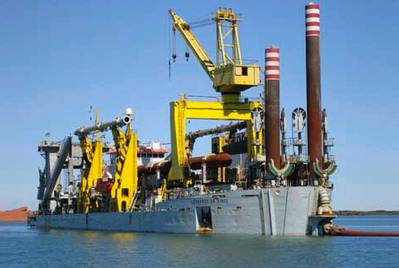 Goltens, the US based global engine repair and retrofit expert, overhauls 3 engines from the 'Leonardo Da Vinci', owned by the Jan De Nul Group.
The dredger, which has over 20,000 KW installed diesel power, required a full overhaul and reconditioning of its three main engines. Work was carried out at Al Duqm shipyard in Oman and was completed within a demanding schedule of three weeks.

This project was part of Goltens' ongoing cooperation with Denis Diesel Services. The two companies work together on a number of projects, in particular those related to large diesel overhauls on dredgers. Most of this work takes place in the Middle East and South East Asia.

Goltens president of worldwide service, Paul Friedberg, said: "We tend to combine our resources in a way that is optimal for the customers both in terms of competence, time and cost efficiencies, which is particularly important in the dredger business, where downtime is particularly expensive in the middle of an assignment."

The engine components were transported from the shipyard in Oman to the Goltens workshop in Dubai. Even with this long journey covering a total distance of 1,500 km, the engine components were completely refurbished and dispatched in less than one week.