Molex SCPC System Features Unique Design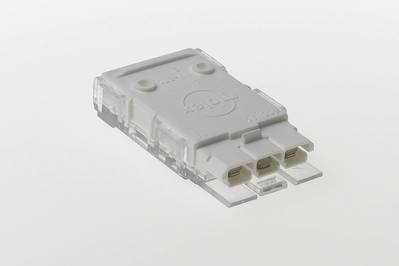 Offers a time-saving alternative to hard wiring junction boxes in marine equipment applications.


Molex Incorporated showcased its Self-Contained Power Connector (SCPC) system to the marine industry at the 2012 International BoatBuilders' Exhibition. The SCPC is a simple two-piece system used to splice and tap solid and stranded non-metallic sheathed cable, providing fast and easy connection of marine boat cables. The connectors support two and three conductors and ground circuits for AC power applications and feature insulation displacement contacts that allow for wire termination without the need to pre-strip the wires. The connectors meet the same UL/CSA certification as a junction box, making them ideal in demanding marine environments.


"When working under the extreme conditions found in the marine industry, secure and dry connections are important to the performance of electrical and electronic equipment," said Piero Fagiolo, product manager, Molex. "The unique design of the SCPC allows users to splice together two cable segments quickly and reliably, even in the most challenging circumstance. The system also eliminates the extra equipment needed in traditional splicing applications, such as wire nuts and junction boxes, streamlining the entire procedure."


The connectors include a double-latching system for security and an automatic strain relief feature to help eliminate connection errors. The high impact, crystal clear strain relief cover provides durability and allows for complete visual inspection and the large; markable surface area on the housing enables easy circuit identification. The SCPC system's double insulation displacement contacts provide maximum conductivity, reducing the voltage drop to a bare minimum.