CoCo Yachts Wins Order for Three Ferries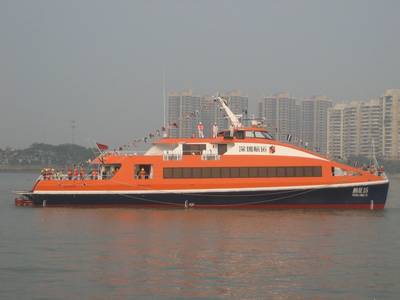 In the same week of the launching of fast ferry Peng Xing 15, the first Coastal Cruiser 200 designed by CoCo Yachts and built by AFAI Southern Shipyard, Peng Xing ferry company decided to sign the contract for another three Coastal Cruiser 200 fast ferries. The new contract was signed on January 10, 2014 in the main office of the Peng Xing Group.

The new ferries shall have the same main dimenions, propulsion and capacity as the two ferries now under constuction:

Length overall : 40 m
Beam overall : 9.3 m
Depth : 3.4 m
Draft : 1.25 m
Propulsion : two MTU 12V2000M72 and two MJP 650 waterjet
Capacity : 163 economy seats, 28 business seats, eight VIP seats and eight crew


The fast ferries shall be delivered to Peng Xing Ferry company in 2015, and shall be deployed to run services in the Pearl River delta between Shenzhen – Zhuhai – Hong Kong – Macau P.R. China, With this fantastic new order, AFAI has currently 12 CoCo Yachts designed ferries under construction, including five Coastal Cruisers 200 for Peng Xing ferry company and seven Urban Cruisers 2000 double ended ferry for SETRANS Rio de Janeiro.