Finances Very Strong; Steel Drives Tonnage Growth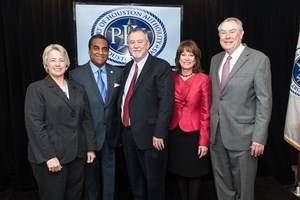 PHA Signs Memorandum of Friendship & Trade Cooperation With Port of Marseille-Fos, Provence Promotion Economic Development Agency.

Finances are very strong for August, Executive Director Len Waterworth shared in his report to the Port Commission of the Port of Houston Authority at its monthly meeting today.


"I am very pleased to announce that we had another $20 million+ month, that's four out of eight this year, extremely good," Waterworth said. "Year-to-date operating revenue of $156 million increased 4 percent, or $6 million."


Waterworth also reported August's net income of $11 million, up $7 million or 212 percent. Year-to-date net income of $36 million is up $10 million or 38 percent. Much of this was driven by grants, he reported.


"We have been aggressively pursuing grants for security needs, including the new emergency response vessels," Waterworth said.


August total tonnage of 3 million reflects a 5-percent increase over prior year. "This was led by a surprise uptick in steel imports, which is up 25 percent or 424,000 tons," the executive director reported. Year-to-date total of 24 million tons is up 4 percent, led by a 16-percent increase in bulk and a 7-percent increase in containers.


In her introductory remarks, Port Commission Chairman Janiece Longoria welcomed two new Port Commissioners, businessman Theldon Branch III and Baytown Mayor Stephen DonCarlos.


Branch, who was appointed unanimously by the Houston City Council on Sept. 11 to the seat held by Kase Lawal since 1999, has an extensive professional background in both the private and public sectors.


An attorney and mayor of the city of Baytown since 2006 with a record of civic involvement, DonCarlos was appointed to the Port Commission by the Harris County Mayors' and Councils' Association on Sept. 19 to the seat previously held by Jimmy Burke. Burke had served as Port Commissioner since 1999.


Both were sworn in during ceremonies held prior to the meeting, Branch by Mayor Parker and DonCarlos by State Rep. Wayne Smith.


During the meeting, Longoria announced that this would be the last meeting for longtime Port Commissioner Steve Phelps. Phelps gave farewell remarks, expressing his gratitude for the "opportunity of a lifetime" to serve on the Port Commission since 1997.


Among actions taken, the Port Commission awarded an eight-month, $325,000 contract, with an option to renew for one additional passenger cruise season for parking services for the Bayport Cruise Terminal. Starting this November, Princess Cruises will begin a total of 77 sailings through 2016. Norwegian Cruise Line will begin sailing out of Houston next year for a total of 75 cruises through 2017.


In her remarks, Longoria noted a ceremony held this month recognizing the first of a new fleet of high-performance emergency response vessels and the August visit from U.S. Secretary of Commerce Penny Pritzker on her nationwide "listening" tour. Hosted by the Greater Houston Partnership, it included a roundtable discussion with business leaders on exports, the energy industry and workforce development. Texas is ranked as the leading state in exports.


In other news, Longoria announced that Fitch Ratings had affirmed a "AAA" rating of the Port of Houston Authority's unlimited tax bonds. She also reported that the Port Authority was awarded a $10 million Transportation Investment Generating Economic Recovery (TIGER) grant to be used toward the expansion of the wharf at Bayport Container Terminal, which will extend the wharf by 700 feet. The U.S. Department of Transportation (DOT) cited the Bayport expansion as a prime "example of a project that will help jumpstart local and national economic growth."


Longoria also announced the establishment of the Chairman's Citizens Advisory Council, which will serve in an advisory role to the Port Commission. The CCAC aims to facilitate a regular and open channel of communication for stakeholder input regarding PHA's mission and priorities.


After the meeting, a Memorandum of Friendship and Trade Cooperation with the Port of Marseille and the Provence Promotion Economic Development Agency was conducted with a signing ceremony. Longoria, along with Monica Michel-Bonvalet, Director, Head of Shipping Department, Port of Marseille Fos Authority, and Pierre Distinguin, Director, Business Development, Provence Promotion, formally signed the document. These two entities, in collaboration with the Port of Houston Authority, will perform joint marketing efforts to promote waterborne trade and economic development between the city of Houston and the country of France via the ports of Marseille-Fos.