UAE Navy Receives Fincantieri Patrol Boat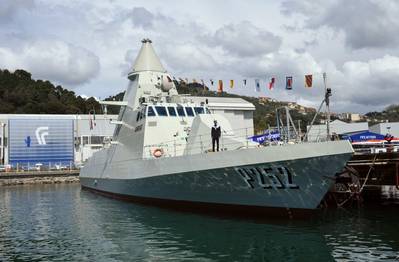 Fincantieri Muggiano (La Spezia) shipyard in Italy has delivered the patrol boat 'Salahah' to the United Arab Emirates' Navy.
The new ship's sister the Ghantut was delivered last January together with an "Abu Dhabi Class" corvette. The two patrol vessels – whose names come from an area of the Emirates near Abu Dhabi – were ordered in 2010 within the "Falaj 2" program.

The contract provides for an option for a further two vessels in addition to technology transfer to a local shipyard for the construction of further sister ships.

The patrol vessels "Ghantut" and "Salahah", at 55 metres long and 8.60 wide, are capable of reaching over 20 knots and can accommodate a crew of 28. Their main feature is their particular 'stealth' geometry which will make them difficult to trace by radar.

Further features are their high capacity and flexibility in carrying out different mission profiles – ranging from patrolling and observing to self defence in case of threats from the air and surface and attack against both naval and land targets – in national and international operations, whilst at the same time affording high standards of accommodation and safety.

The delivery ceremony, beginning with a recitation of the Quran, was conducted in the presence of Rear Admiral Ibrahim Salem Mohamed Al-Musharrakh, Head of the UAE Navy, Admiral Giuseppe De Giorgi, Chief of the Italian Navy (who was represented on this occasion by Vice Admiral Andrea Toscano, Commander in Chief of Northern Tyrrhenian Sea Department) and Alberto Maestrini, Fincantieri Executive Senior Vice President Naval Vessels.
Fincantieri add that they have set up Etihad Ship Building – a joint venture with Al Fattan Ship Industries and Melara Middle East. The new company operates in the design, construction and sale of different types of civilian and military vessels, as well as carrying out maintenance and refitting.