Jensen Bags Fireboat Contract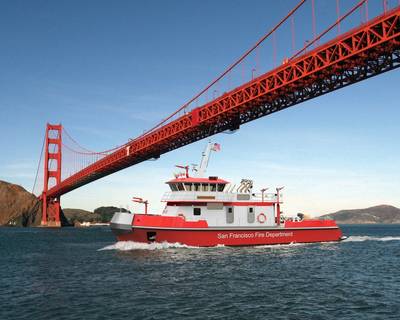 Jensen Maritime to provide detail production engineering and construction management on San Francisco Fire Department fireboat
Jensen Maritime, a wholly owned Crowley Maritime Corp. subsidiary, has been selected to provide detail production engineering and construction management on an 88' x 25' Super Pumper NFPA Type II Fireboat for the San Francisco Fire Department. Jensen completed the fireboat contract-design for the city in 2012.
"We are proud to work with the
San Francisco Fire Department again
," said Johan Sperling, Jensen vice president. "We've worked closely with them in the past and believe wholeheartedly that this highly capable fireboat will be a real asset to the department."
Vigor Industrial will build the vessel at its 27-acre facility in Seattle. Due in late summer 2015, the workboat will operate in
San Francisco Bay
, San Pablo Bay and the Pacific Ocean within five miles of shore and the adjoining inland waterways.
"Vigor has a long history of working with Jensen and we are proud to be able to continue that relationship with the construction of this new fireboat," said Bryan Nichols, director of sales at Vigor Fab. "Vigor's shipbuilding best practices together with Jensen's considerable design expertise will ensure that the San Francisco Fire Department has a vessel that they can rely on for years to come."
The vessel is designed primarily for pumping, firefighting, rescue, emergency medical services and patrol. It will feature CBRNE (chemical, biological, radiological, nuclear, explosives) detection capabilities, as well as SCBAs (self-contained breathing apparatus) and local air supply ports to keep crews safe. It was designed in accordance with NFPA 1925, the National Fire Protection Association's standard detailing requirements for the construction of new marine fire-fighting vessels, and the American Bureau of Shipping's rules for building and classing steel vessels less than 90 m. (295 ft.) in length, but it will not be classed.
The boat will have two fire fighting modes. In normal mode, it will pump 18,000 GPM of water at 150 PSI through 2 x 3,000 GPM and 2 x 1,500 GPM deck monitors and 2 x 1,500 under deck monitors and 18 x 3" and 10 x 5" manifolds. In super-pumper mode, it will pump 6,000 GPM of water at 150 PSI through the forward monitors and 8 x 3" manifolds and 6,000 GPM of water at 300 PSI through 10 x 3" & 10 x 5" manifolds.
"We have developed a good working relationship with Jensen," said San Francisco Fire Chief Joanne Hayes-White. "They have designed a state-of-the-art, multi-operational vessel for us and we are looking forward to getting our new Fireboat into the San Francisco Bay."