Army Takes Delivery of Fire/Rescue Boat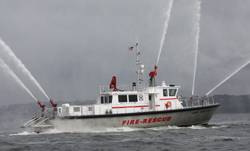 U.S. Army Takes Delivery of New Fire/Rescue boat from Gladding-Hearn.
Gladding-Hearn Shipbuilding, Duclos Corporation has delivered a new high-speed fire/rescue boat to the U.S. Army. The all-aluminum vessel, designed jointly by the Somerset, Mass., shipyard and C. Raymond Hunt Associates, measures 75.8 feet overall, with a 20.6-foot beam and a shallow 4.2-foot draft. Designed to meet the Army's primary mission of fire protection for its munitions terminal in Sunny Point, North Carolina, the vessel will also aid local cities and towns. Its pilot boat pedigree offers additional capacity in offshore fire and rescue operations.
Twin Caterpillar C-32 diesel engines, each producing 1600 Bhp at 2,300 rpm, turn a pair of Hamilton HM-651 waterjets through Twin Disc MGX-6599 SC gear boxes. The boat has a top speed of 29 knots. Hamilton Jet's Marine Electronic Control System (MECS) controls the waterjets, engines and gears at the wheelhouse console and an exterior control station on the aft deck. The jets allow for operating in shallow water. The three-access joystick-control "gives the boat superior maneuverability in close quarters," explained Peter Duclos, the shipyard president.

The vessel's fire-fighting system consists of two pumps, each powered by a dedicated Caterpillar C-9, 503 Bhp diesel engine. Separating the pumps from the main engines maintains the boat's full firefighting capacity, as well as its full propulsion in maneuvering around a moving ship and overcoming the fire-monitor-reaction forces, such as ambient wind and current. At peak output, the pumps supply 7,500 gpm of water at 150 psi to the five monitors and eight hydrants on deck. Two manually-operated monitors, each discharging 1,250 gpm, are installed on the foredeck, along with a reel of 200 feet of rigid forestry hose. Two 2,500 gpm manual monitors are mounted on the aft deck. A 5,000 gpm monitor atop the pilothouse is remotely operated from helm station and viewed through two roof windows. For petro-chemical fires, a fully automatic foam-proportioning system with two 200 gallon tanks of foam concentrate and off-board pickup capability, supplies the monitors and the hose outlets on the foredeck as well.

A hydraulic knuckle-boom crane is installed aft of the pilothouse on the bridge deck. Recessed steps, built into the transom, lead to a rescue platform. The raised pilothouse on a flush deck provides 360 degree visibility. The main deck salon, with a wide door from the aft deck, doubles as an office and Advanced Life-Support medical station. Below the main deck are a forecastle with a galley and dinette, head, separate shower, and four berths. An 86,000 Btu seawater-cooled air conditioning system cools the vessel's interior.