First RAstar Class Tugs Enter Service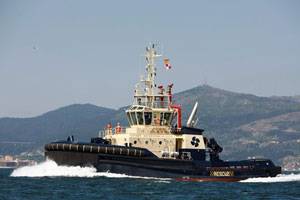 A unique new design of high performance terminal/escort tug has just entered service at the Dragon LNG terminal in Milford Haven, U.K., under the Svitzer flag. The Svitzer Lindsway was delivered to the UK from the builders Freire Construcciones Navales of Vigo, Spain in early November, 2008.

The overall contract for this entire project comprised two distinct designs for vessels of the new RAstar 3900 (one off) and the RAstar 3400 Classes (five off). Due to differences in major machinery and performance requirements there are also two machinery variants in the 111.5 ft tugs.

The RAstar design represents a truly unique development in offshore tug design. The hull form incorporates a significant outward flare (or sponson) on the upper hull sides. When the tug is heeled over under influence of the towline during an escort operation, the "downhill" sponson is submerged and a large righting force is generated to improve the stability, thus increasing the towline force. In addition, the hull has a large foil-shaped skeg, also designed to provide increased indirect forces.

Although these hull and appendage design features were initially developed to provide increased escort performance, the sea-keeping characteristics have serendipitously also shown very significant improvements in sea-keeping over more conventional hull forms. The RAstar hull form provides dramatic reductions in roll amplitude and roll accelerations, thus providing a much safer and more comfortable platform for crews, who are now being asked to conduct docking operations at LNG terminals and similar installations in up to sea-states of 3.0 metre significant wave heights. Extensive model tests indicate that the roll accelerations of a RAstar hull are about 60% lower than in a typical hull form.

The tug is equipped for typical ship-handling and escort work, with a Rolls-Royce model TW 2250/850/AW 22U2 H hawser winch on the fore deck, with a capacity for 820 ft of 3 inch diameter high strength towline. The aft deck is strengthened for a potential future fit of an aft towing winch, but that is not presently fitted.

Auxiliary power is provided by a pair of Cummins gen-sets, each rated 390 ekW.

The accommodation is to a very high standard for a crew of potentially up to ten persons. Two spacious Officer's cabins are located on the main deck, each with private en-suite facilities, and below decks are four double cabins, two of which also have private en-suite facilities. The fully equipped galley serves a large common lounge/mess area.

In common with the majority of Robert Allan Ltd. designed tugs, a great deal of attention was paid throughout the design process to mitigate the propagation of noise and vibration. This includes the essential resilient mounting of the main engines, isolation of all exhaust system components, and the extensive use of visco-elastic floating floor systems throughout. The shipyard executed all these requirements well, and the reward was a quiet ship throughout, as attested to by the following noise level results at full power:

Bridge Deck:
Wheelhouse- 62 dBA

Main Deck:
Galley 62 dBA
Mess/Lounge 61 dBA
Master's cabin 57 dBA
Chief Engineer Cabin 59 dBA

Lower Deck:
Engine Room 109 dBA
MCR 74 dBA
Crew cabins 57-59 dBA

The wheelhouse is designed to provide maximum all-round visibility from a single split type master console.

The Svitzer Lindsway is built in accordance with Lloyd's Register of Shipping requirements for a Lloyd's  100A1 Escort Tug, Fire Fighting Ship 1 (2400M3/hr) with water spray, LMC, UMS, 1BS, NAV1 notation, and also in compliance with the UK MCA regulations.

The fire-fighting capability is provided by a pair of main-engine driven pumps, each rated 1,400 cubic metres per hour, which serve a pair of Kvaerner monitors and a self-protection waterspray system.