First Vessel Arrives at Freeport LNG Plant Since 2022 Fire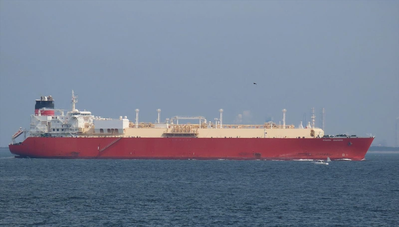 The first liquefied natural gas (LNG) vessel arrived on Friday at Freeport LNG's long-idled export plant in Texas since the facility shut in a fire in June last year, according to ship tracking data from Refinitiv.
The vessel Kmarin Diamond is operated by a unit of oil major BP, one of Freeport's big customers, according to several vessel tracking services.
News of the vessel's arrival helped boost U.S. natural gas futures by over 5% in post-settlement trade on Friday as the second biggest U.S. LNG export plant will consume a lot of gas once it starts production again.
The contract had closed at a 25-month low earlier in the week due mostly to mild weather and low heating demand.
Freeport has said it would soon start sending gas to one of the plant's three liquefaction trains, which liquefy the fuel to be shipped overseas. On Thursday, federal regulators gave the company permission to return ship loading to service to free up space in its LNG storage tanks.
Many analysts, however, have said they do not expect the plant to return to full capacity until mid-March or later. A couple of Freeport's customers - Japan's JERA and Osaka Gas - have said they do not expect to get LNG from the plant until after March.
The eight-month outage has already forced JERA and Osaka Gas to book hundreds of millions of dollars of losses. Freeport's other big buyers include BP, TotalEnergies and SK E&S.
Freeport has received an average of 35 million cubic feet of gas per day since Jan. 26 when federal regulators approved the company's plan to start cooling parts of the plant. But that is only a fraction of the 2.1 billion cubic feet per day (bcfd) of gas Freeport can pull in when operating at full power.
Kmarin Diamond had been waiting outside Freeport in the Gulf of Mexico since around Jan. 26, according to Refinitiv data.
Several other tankers were also waiting in the Gulf to pick up LNG from the plant, including Prism Agility (since Jan. 2), Prism Brilliance (Jan. 26), Nohshu Maru (Jan. 31) and Corcovado LNG (Feb. 10).
In addition, there are several vessels on their way to Freeport, including LNG Rosenrot (expected to arrive around Feb. 11), Seapeak Bahrain (Feb. 20), Gaslog Wales (Feb. 23), British Achiever (Feb. 24) and LNG Endurance (March 5).
(Reuters - Reporting by Scott DiSavino; Editing by Chris Reese, Alexander Smith and Marguerita Choy)