First-in-Class Zumwalt Destroyer Launched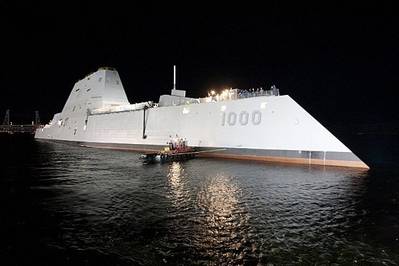 General Dynamics Bath Iron Works has launched the Navy's first Zumwalt-class destroyer at their Bath, Maine shipyard. The future 'USS Zumwalt' (DDG 1000) will be the lead ship of the Navy's newest destroyer class, designed for littoral operations and land attack.
The ship began its translation from Bath Iron Works' land-level construction facility to a floating dry dock, which was flooded and the ship was removed from its specially designed cradle. Then it was floated out and moored alongside a Kennebec River pier.
"This is the largest ship Bath Iron Works has ever constructed and the Navy's largest destroyer. The launch was unprecedented in both its size and complexity," said Capt. Jim Downey, the Zumwalt-class program manager for the Navy's Program Executive Office, Ships. "Due to meticulous planning and execution, the operation went very smoothly. I'm extremely pleased with the results and applaud the combined efforts of the Navy-industry team."


Construction began on DDG 1000 in February 2009, and the Navy and its industry partners have worked to mature the ship's design and ready their industrial facilities to build this advanced surface combatant. Zumwalt is currently more than 87 percent complete, and the shipbuilder will continue remaining construction work on the hull prior to planned delivery late next year.

Because of the complexity of the first-of-class ship, the Navy will perform a two-phase delivery process. Bath Iron Works will deliver the ship itself to the Navy in late 2014. Upon delivery, the Navy will then conduct combat systems activation, tests and trials, to include multiple underway periods. The ship is expected to reach its initial operating capability in 2016.