Fjellstrand WindServer Trimarans to be Classed by GL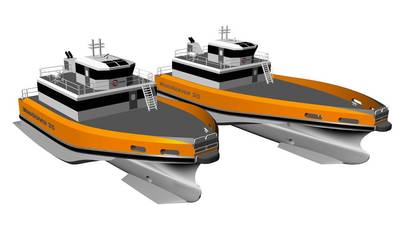 New Fjellstrand designed WindServer Trimarans for World Marine Offshore to be classed by GL.
As offshore wind developments move further offshore, into deeper waters with more extreme weather conditions, the challenge of providing operations and maintenance (O&M) support safely and cost effectively grows.
The Fjellstrand WindServer is one of the new generation of offshore service vessels that will be meeting these needs and Germanischer Lloyd (GL) will be supporting this growing industry by providing classification services for the first newbuildings.
GL will class the order of six of the new vessels, two 30m vessels and four 25m, built by Fjellstrand for Danish shipping company World Marine Offshore A/S. The vessels will have a service speed of 25 knots and the capacity to carry 25 and 12 service personnel, respectively. They are scheduled to enter service in March 2013.
The Fjellstrand WindServer, includes a number of innovative features which have been designed to improve access to offshore installations in rough weather, improve fuel efficiency, ensure the safety of the personnel on board, and reduce running costs. The vessels will be equipped with four engines that power two controllable pitch propellers, giving improved operational flexibility while ensuring redundant capacity.
The vessels will be equipped with ballasting systems allowing them to shift between a rough weather SWATH mode and a light weight transit mode. A fixed stabilisation foil adds to the design's stability - one of a set of permanently integrated motion damping devices that are part of the hull concept and designed to reduce construction and maintenance costs by avoiding complex active motion control systems.
In May 2012, GL released the first comprehensive set of classification rules for Crew Boats and Offshore Wind Farm Service Craft. The rules were developed by integrating all of the relevant GL rules, international codes and recommendations which can be used for the classification of Crew Boats.
These rules will allow designers to develop vessels built to the individual needs of their clients, with full confidence in the fact that their vessel can meet with classification approval. The Rules have been developed in consultation with the flag states and will contribute to the development of international standards for Crew Boats.