E2S Launches New Range of Flameproof Audible Signals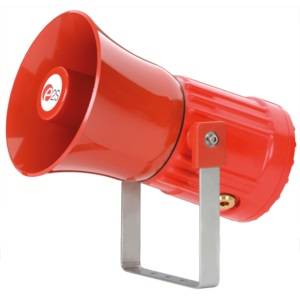 The GNEx range of flameproof audible signals is the first series of products to be launched from E2S's exciting new range of cost effective GRP signaling devices.


The Ex d IIC coded GNEx range is manufactured from glass reinforced polyester (GRP) which is a competitive alternative to stainless steel offering equivalent protection from corrosion in offshore applications. The enclosures are molded red but can be supplied in custom colors. With temperature ranges of -76°F to +158°F and approval for Zone 1 and Zone 2 the new GNEx signals are suitable for the harshest of environments.


The GNExS1 and GNExS2 are alarm horns with maximum outputs of 117dB(A) and 123dB(A) at 1 meter respectively. Both versions offer 45 alarm tone frequencies with four remotely selectable alarm stages. The first and second stage alarm tones can be selected independently of each other providing significant flexibility when configuring alert and evacuation alarm tones.


The GNExS1-R has all the performance of the GNExS1 but features a unique radial horn design that provides omni-directional sound dispersion. For applications where mounting restrictions may cause coverage issues when using traditional directional flare horns; the GNExS1-R is the solution. The compact size of the device also makes it ideal when space is limited.


The GNExL1 (15W) and GNExL2 (25W) PA horns are available with dual 70 & 100V line transformers featuring multiple tappings or 16 Ohm or 8 Ohm low impedance versions. Ideal for offshore PAGA systems they offer superb clarity, frequency response and SPL coverage.


All the new GNEx products have been certified to ATEX and IECEx using the latest EN and IEC standards. Further approvals and enhancements will be released in the near future.