Kvichak's New Facility, Flashmark Tech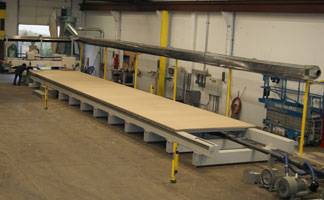 Kvichak Marine Industries, a Seattle workboat builder, was a recipient of an ARRA small shipyard grant awarded in August 2009. One of the improvements to Kvichak funded by this grant is a new state of the art cutting table and brake which the company has located into a newly leased facility located in the South Park area of Seattle.
Flashmark Tech, a division of Kvichak Marine, is now in full production. This new facility has a 16-ft 325 ton 2 Axis CNC Press break and a 10-ft by 60-ft high speed router table with integrated Galvo laser marking system. This state of the art cutting table and brake will provide KMI for the first time, the ability to control the schedule of its cut parts being delivered to the production floor. Just In Time (JIT) delivery of the cut & formed parts is expected to reduce the current use of valuable boatbuilding space in the company's two main production facilities for parts storage thereby increasing manufacturing capacity. This vertical integration of all plate processing operations will reduce overall production costs, significantly reduce trucking costs, reduce carbon emissions and increase quality control of the finished product.