Fleet Week Parade of Ships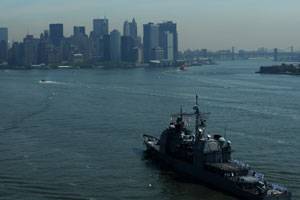 Commander, U.S. 2nd Fleet joined Navy League New York Council members in observing Fleet Week New York 2009's opening Parade of Ships May 20 at a reception in southern Manhattan.

"On behalf of the maritime forces of the U.S. and our Canadian ally, I'd like to relay the message that 'We love New York!'" proclaimed Vice Adm. Mel Williams, Jr., to numerous civilian and military distinguished guests shortly before the ships were within sight.

He pointed out the importance of such opportunities.

"They allow the American public to see and better understand our maritime forces."

He also thanked supporters of the Navy for hosting the reception to review U.S. and Canadian ships as they sail up the Hudson River.

"We are inspired by your support," said Williams. "You are true patriots, and you are sincerely appreciated by those of us who serve in the armed forces."

Dr. Daniel Thys, president of the Navy League New York Council, thanked the military members for attending. He said that he believed the interaction between the military members, the Navy League and members of the community was what Fleet Week was all about.

Approximately 3,000 Sailors, Marines and Coast Guardsmen are participating in the 22nd commemoration of Fleet Week New York City 2009 from May 20 to 27. This event will provide the citizens of New York City and the surrounding tri-state area an opportunity to meet service members and also see the latest capabilities of today's maritime services.

Ships participating in the Parade of Ships this year were guided-missile cruiser USS Vella Gulf (CG 72), homeported at Naval Station Norfolk, Va.; patrol coastal ships USS Tempest (PC 2), USS Hurricane (PC 3) and USS Thunderbolt (PC 12), homeported at Naval Amphibious Base Little Creek, Va.; and the guided missile destroyer USS Roosevelt (DDG 80), homeported in Mayport, Fla.; Canadian ships, air defense destroyer HMCS Athabaskan, and the multi-role patrol frigate HMCS Fredericton, HMCS Montreal, multi-role patrol frigate HMCS St. John's; U.S. Coast Guard high endurance cutter Spencer.