Flight MH370: Latest Fugro AUV Joins the Hunt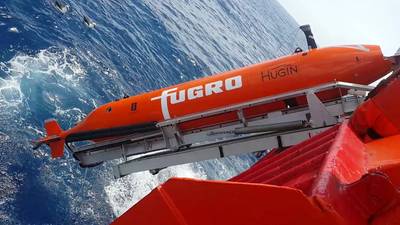 Fugro took delivery of the Hugin 1000 Autonomous Underwater Vehicle (AUV), the Echo Surveyor VII, in December 2014. Depth rated to 4,500 metres, the new AUV now holds the record for the deepest Hugin AUV dive, surveying in water depths surpassing 4,200 m.
As the latest addition to Fugro's AUV fleet, the Echo Surveyor VII is specifically designed for high resolution and efficient survey operations in water depths reaching 4,500 metres. The extended depth rating of the Kongsberg Hugin 1000 AUV places it in the most advanced ranking of deep sea survey instrument platforms, and it can be mobilised for rapid deployment to suitable vessels of opportunity in a range of worldwide project locations.
Representing state-of-the-art development, the Echo Surveyor VII houses an instrumentation payload ideal for geochemical hydrocarbon seep exploration and produces data with enhanced resolution and increased quality. The AUV provides improved multibeam swath coverage and supports the acquisition of side scan sonar, sub-bottom profiler and CTD profiler data. In addition, it offers rigorous internal navigation for accurate and efficient data collection.
Fugro operates one of the largest fleets of commercial AUVs in the world and has applied this technology in some of the most complex and challenging deepwater surveys. The Echo Surveyor VII recently joined three of Fugro's specialist survey vessels in the search for the missing Malaysia Airlines flight MH370, in the Southern Indian Ocean. The new design features of this AUV are particularly suitable to support this exceptional mission, including the high-resolution camera capability to provide positive verification as required.