Floating Sauna Sails from Helsinki to Tallinn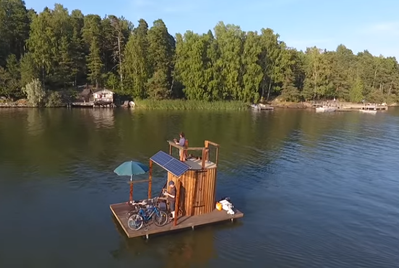 Wearing only a bathrobe, Finnish inventor Janne Kapylehto sailed his self-made floating sauna across the Gulf of Finland on Monday, travelling from Helsinki to Tallinn in 16 hours.
The floating sauna - which resembles a shed on a raft - is equipped with four engines, solar power panels, a sauna for three, an observation post, sound system, a fridge and a grill.
The voyage of 82 kilometers took longer than expected as the raft faced 1.5 meter-high waves and winds of up to 15 meters per second. Yet despite the rough weather, Kapylehto and his crew of two spent hours in the sauna and grilling on deck.
"The vessel performed really well and felt safe, even though there was water everywhere, rain and high waves," Kapylehto said.
"Having a sauna on a boat is handy, because the weather was a bit cold, there was a lot of wind, and it is a nice place where you can warm yourself," he added.
One of the engines broke off and needed changing. Kapylehto also had an escort boat sailing by the raft.
"We wanted to do the trip because it's challenging and fun," he said. It was also a way of celebrating the centenary of Estonia's founding.
Due to Tuesday's weather forecast, a return trip was out of the question and Kapylehto was looking for transportation options for the sauna.
Finland has a population of just 5.5 million people but is home to around 3 million saunas.
(Reporting by Jussi Rosendahl; Editing by Alexandra Hudson)