Canadian Navy Oiler on Tow Following Engine Room Fire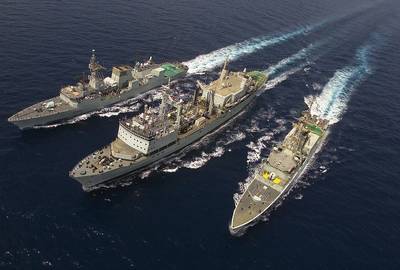 The Canadian Navy Fleet Replenishment ship 'HMCS Protecteur' has been taken in tow in rough seas by the U.S. navy cruiser USS Chosin, after an engine fire left it drifting some 600 km from Pearl Harbor, reports CBC News.
Citing Commodore Bob Auchterlonie, the commander of Canada's Pacific naval fleet, CBC reports that the USS Michael Murphy, is accompanying Protecteur as the ships make their way at five knots or less [9 km/h] toward Pearl Harbor, 630 km away. In addition the fleet ocean tug USNS Sioux is also on station near Protecteur should problems arise.
About 20 people suffered minor injuries, including dehydration, exhaustion and smoke inhalation when fire broke out in the engine room as the Protecteur was returning from operational duties with nearly 300 on board. The family of crew members, who were on board the ship when the fire broke out, were transferred to the USS Murphy on Saturday.

The Protecteur, which left on Jan. 6 2014, with HMCS Regina, was carrying 279 crew, 17 family members and two civilian contractors. The vessel was returning to B.C. from extended operations with the U.S. navy in the mid-Pacific.

Source: CBC News