Coast Guard Foundation to Host Pacific Awards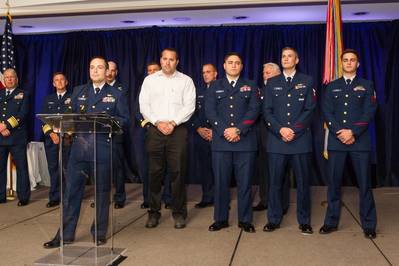 The Coast Guard Foundation, a nonprofit organization committed to the education and welfare of all Coast Guard members and their families, announced that it will host its 29th Annual Pacific Area Awards Dinner in tribute to the United States Coast Guard at 6 p.m. on Thursday, April 17, 2014 at the historic Fairmont Hotel in San Francisco. The gala event will bring together civic and business leaders, mariners, sailors, and notables from all over the country to honor heroism and mission excellence from the brave men and women serving in the Coast Guard's Pacific area. These individuals are responsible for protecting our shores, enforcing maritime law, and preserving our environment from the west coast of the U.S., Alaska, Hawaii, and Pacific territories such as Guam and American Samoa.

"It is with great pleasure that we honor and celebrate the men and women of the Coast Guard serving in the Pacific area, and all they do to make it safer for us and the environment," said Anne Brengle, president of the Coast Guard Foundation. "With a territory that encompasses 74 million square miles, stretching from the Arctic to the Antarctic and the western United States to Asia it must be a daunting task; but they do it well, even in the worst sea and weather conditions."

Michael Nerney, from the Port of San Francisco, is this year's dinner Chairman. The honorary committee includes:
Commander Pacific Area and Commandant-Select, US Coast Guard Vice Admiral Paul Zukunft
City of San Francisco Mayor Edwin M. Lee and First Lady Anita Lee
Mayor of Oakland Jean Quan
Dr. Floyd Huen, First Husband of Oakland
Former U.S. Secretary of State George P. Shultz
City and County of San Francisco Chief of Protocol Charlotte Mailliard Shultz
Port of San Francisco Executive Director Monique Moyer
Port of Oakland Executive Director J. Christopher Lytle
Chevron Shipping Company President Michael L. Carthew
Cliff House Restaurant Proprietor Dan Hountalas
Coast Guard Foundation Board Member Kevin O'Connell
Coast Guard Foundation Honored Guest Mrs. Warren Titus
coastguardfoundation.org.