Freeze-Stricken Port of New Orleans Reopens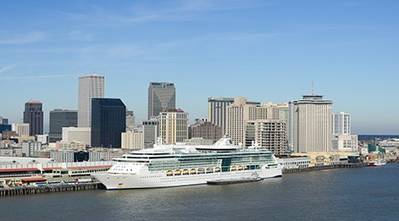 The Port informs that gatehouses at the Napoleon Avenue Container Terminal reopened at noon Wednesday and will operate as usual beginning at 7 a.m. Thursday (Jan. 30), following the winter weather affecting south Louisiana.
In addition, the cruise ship Carnival Elation will arrive as scheduled Thursday morning to disembark passengers and embark on its routine four-day cruise.

Cargo operations were ongoing today at Port wharves; however, truck traffic was light due to continued bridge and interstate closures in region. Port officials expect all operations to return to normal Thursday, Jan. 30.

"While inconvenient, the winter weather only caused a few delays in cargo ship schedules," said Gary LaGrange, Port President and CEO. "There were no ships diverted from New Orleans and our terminal operators, Port personnel, Customs officials and Longshoremen stand ready to catch up on all cargo operations the next few days."

The Port adds that while another hard freeze is expected overnight, NOAA officials expect conditions to improve rapidly.



Gary LaGrange, Port President & CEO