Frontier Driller Final Phase Complete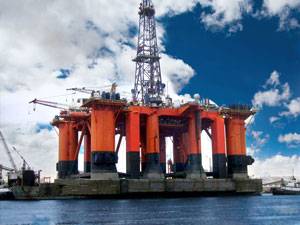 Signal International announced the delivery of the Frontier Driller semisubmersible rig which underwent a major upgrade and modernization at its East Bank yard in Pascagoula, Miss.

The scope of work encompassed starting with a veteran semisubmersible rig; renovating and outfitting it with updated drilling and marine equipment to render the rig capable of drilling deeper wells.

Major tasks such as construction of new derrick (single lift), new BOP handling structure, addition of winch decks (four corners), new riser decks, new ROV deck, raised mud pit roof, converted chain lockers to bulk mud tanks, and new cement deck. Large structures required major lifts of 50 tons – to larger lifts of 300+ tons; all done safely as planned and scheduled by the yard.

The helicopter deck was set and secured (crane released for other work) in record time - less than one work shift. New forward and aft lifeboat decks were set and secured in less than one shift, as safety, planning, engineering and production personnel cooperated to expedite the tasks.

To meet the customer's requirements, all pipe systems were re-newed, modified or completely replaced and tested, and the complete renewal of the rig's HVAC systems. The entire electrical system on the Frontier Driller was completely re-powered, including all four mains all new SCR and MCC and switchboards and 100% new cable. All columns, under deck, exterior and interior spaces were cleaned and painted in accordance with industry practices.

The final phase of this project consisted of fabricating and installing one thousand tons of steel, adding two pontoon sponsons and four columns to the huge rig in 61 days. Signal fabricated one new column, while subcontracting and managing the fabrication of the remaining components. The three fabricated columns were each received in three unfinished sections. Each column was assembled and outfitted with ladders, man-ways and vent piping, then blasted and painted internally and externally in accordance with client specifications.