FSG Lays Keel for SeaRoad's New RoRo Ship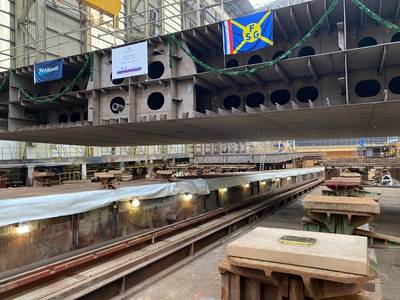 German shipbuilder Flensburger Schiffbau-Gesellschaft (FSG) on Monday held a keel laying ceremony for a new new roll-on / roll-off (RoRo) vessel currently under construction Tasmanian shipping and logistics company SeaRoad. It was announced during the ceremony that the vessel will be named SeaRoad I.
During the ceremony, the first module for the newbuild, weighing more than 154 tonnes, was lowered by crane onto the blocks, and a coin was placed under the keel in accordance with maritime tradition.
At 210 meters long and over 43,000 gross tonnes, the ship will be the largest in SeaRoad's history. The new vessel will join SeaRoad Mersey II and replace SeaRoad's charter vessel, Liekut, for operations between Melbourne and Devonport from the second quarter of 2024.
With a width of 29.3 meters, SeaRoad I will have capability to transport heavy cargo with a unit weight of up to 100 tonnes and will run on liquefied natural gas (LNG) fuel as part of SeaRoad's commitment to sustainable practices.
"By increasing capacity, SeaRoad will again be able to better serve Tasmanian businesses as we continue to be the only Bass Strait shipping service providing for the direct route between Melbourne and Devonport," said SeaRoad executive chairman, Chas Kelly.
The order is worth more than €100 million, according to FSG. The funding partner for the project is the Commonwealth Bank of Australia.
•Length: 210 meters
•Width: 29.3 meters
•Gross registered tonnage: 43,100
•Power main engines: 2 x 10,300 kilowatts
•Deadweight: 11,970 tonnes
•Speed: 22.50 knots
•Cabins: 25 (27 berths)
•Cargo capacity: 3,722 lane meters plus capacity for 101 cars (= 4,227 lane meters in total)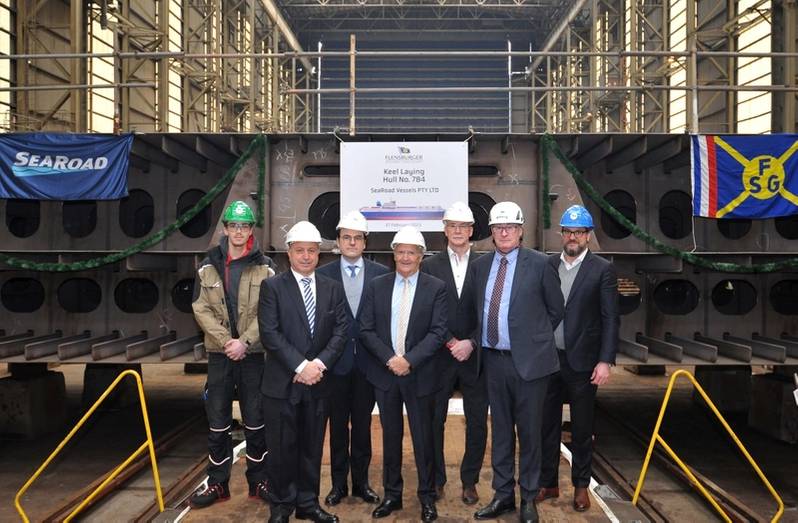 Left to right: Dustin Lind, youngest apprentice at FSG; Patrick Guarino, COO SeaRoad; Philipp Maracke, CEO FSG-Nobiskrug Holding; Chas Kelly, CEO SeaRoad; Wolfgang Schüler, Head of Product Development FSG; Tony Johnson, Technial Marine Manager SeaRoad; and Florian Martin, Project Manager FSG. (Photo: FSG / Marianne Lins)