New Fuel-Saving 2-Speed Marine Gearbox From Wärtsilä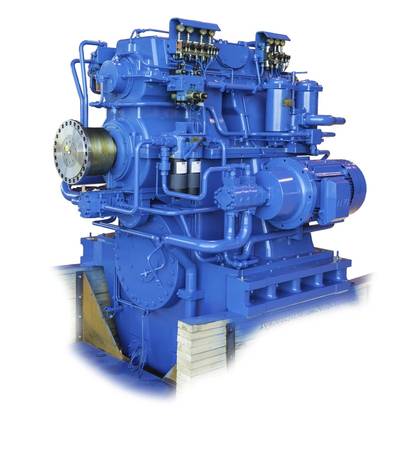 Engine manufacturer Wärtsilä has launched a new 2-speed marine gearbox, which it says offers notable economic and environmental benefits. The product will serve vessels having multiple operational modes or reduced transit speed, including among others: ropax ferries, offshore support vessels, tug boats, and fishing vessels.
Compared to a single mechanical propulsion system, a fuel consumption reduction of eight per cent was verified with Wärtsilä's 2-speed gearbox during sea trials. It is anticipated that further reductions of up to 15 per cent can be achieved, with a similar lowering of nitrogen oxide (NOx) and sulphur oxide (SOx) exhaust emissions.

These cost savings and environmental benefits are achieved by operating the ship's propeller at low speed when maximum vessel speed or propeller thrust is not required. At the same time, the engine speed is kept constant, thereby allowing the electric power generation from the Power Take-Off on the gearbox to remain uninterrupted.

The first ship to utilise the new Wärtsilä 2-speed marine gearbox is a rescue vessel owned by the Rescue & Salvage Bureau of the People's Republic of China's Ministry of Transport. The sea trials have been successfully carried out at the Huangpu shipyard in China. The vessel operates mostly in low speed mode and reaches full speed only for limited periods of time.

Wärtsilä say that the new gearbox will be available with a high degree of modularization in the power range from 2 MW to 10 MW, and they will continue to introduce its range of 2-speed marine gearboxes throughout 2014 and 2015.