Alaris' Gaffney Honored by USMMA Alumni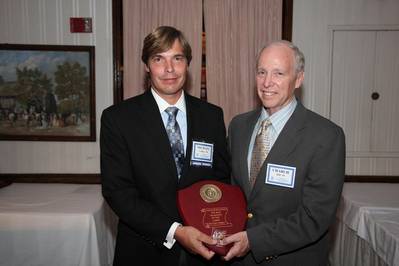 Michael P. Gaffney, Alaris Companies Executive Vice President of Engineering, received the Outstanding Professional Achievement Award from the Alumni Foundation Board of the United States Merchant Marine Academy, Kings Point. Gaffney received the award at his 25th class reunion during the Alumni Awards Banquet on October 13, 2011.
The Outstanding Professional Achievement Award is presented to graduates who best exemplify the finest tradition of Corps – Acta Non Verba – by attaining personal achievement in their chosen fields. For the last several years Gaffney has devoted himself to the design and implementation of a unique shipboard energy management program which decreases vessels' energy costs and carbon footprints.
In 2006, Gaffney formed Alaris Companies with business partner Bobbi Wolff. Gaffney was lead engineer in the design of EQUATE, the first software tool to quantify energy use, financial savings and emissions reductions realized through energy conservation measures aboard ships and maritime facilities.
"There are huge gains to be made in energy efficiencies in the shipping industry and there has never been a better time to make them," said Gaffney. "Energy management is key to realizing energy independence in the U.S., to reducing costs in tough economic times throughout the world and to mitigating global climate change."
Gaffney, a 20-year veteran of the maritime industry, holds a Chief Engineers License and a designation from the Association of Energy Engineers as a Certified Energy Manager (C.E.M). He has served as Chief Engineer and Technical Superintendent on U.S. government and commercial vessels and as Technical Fleet Manager for Patriot Contract Services, managing Military Sealift Commands' LMSR program.