Captain Borup Retires from Galveston-Texas City Pilots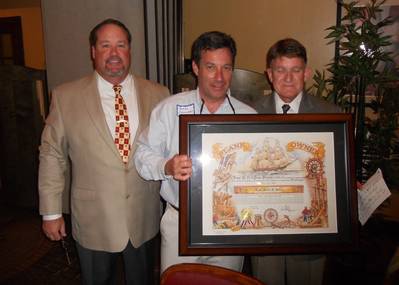 The smell of the ocean air, the cool breeze coming off the water and the responsibility of a large vessel can easily capture one's heart. This may be why the maritime industry can become a family tradition. As a fifth generation mariner, Captain
James R. Borup recently
retired from the Galveston-Texas City Pilots after 30 years of impeccable service.
The tradition began with his great-great grandfather who was an engineer on various British & Pan Am ships. Borups's grandfather,
Arthur Borup
, served as a Houston pilot for 27 years and his uncle, Carl Borup, was a Fort Lauderdale pilot for twenty years.
James A. Borup Sr.
began his sea-going career at the age of 16. Later, he also became a Galveston-Texas City pilot for 28 years.
A reception was recently held in Borup's honor at Gaido's Pelican Club in Galveston. Friends, family and colleagues gathered to honor him and thank him for his invaluable service. "Jim will be missed. It was an honor to have been a fellow pilot with him and I will always remember the wisdom and advice he has given me throughout the years," said Galveston-Texas City Pilots Presiding Officer Wallace Hogan. "He is not only a fellow pilot, he is a friend and part of the Galveston-Texas City Pilots' family."