Gambian President Barrow Visits Antwerp Port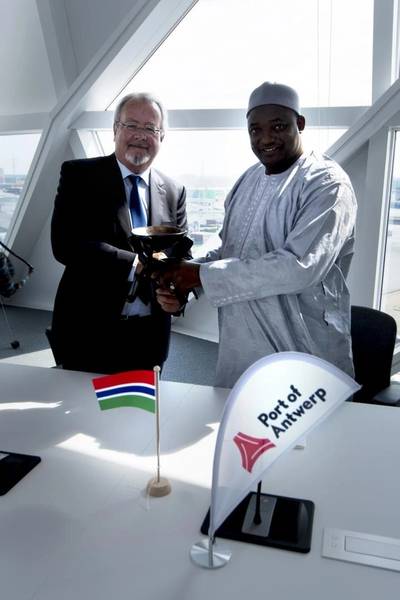 A collaboration agreement was signed on Thursday 24 May, in the port of Antwerp between on the one side Port of Antwerp International (PAI), the consultancy and investment subsidiary of Antwerp Port Authority, and APEC, its maritime training centre, and on the other Gambia Ports Authority which manages the port of Banjul in The Gambia.
The collaboration, which will mainly take the form of training and consulting, underlines the leading role that the port of Antwerp plays in West Africa.
As part of a visit to
Belgium
the delegation from The Gambia headed by H.E. President Adama Barrow today also called at the port of Antwerp. After a guided tour of the port the programme continued with signature of the collaboration agreement between the ports of Antwerp and Banjul.
The MoU was signed in Antwerp Port House by Kristof Waterschoot, CEO of PAI and APEC, and Abdoulie Tambedou, Managing Director of Gambia Ports Authority. Under the terms of this agreement the port of Antwerp will play an advisory role, while the two sides will examine how the ports can collaborate even more closely in future.
In whatever case training will certainly play an important role. Abdoulie Tambedou, Managing Director of Gambia Ports Authority, explained: "The port of Antwerp, where the synergy between maritime, logistics and industrial activities creates a unique platform, is an inspiring example for our own port of Banjul. We are most impressed with Antwerp and so are very pleased with this collaboration agreement that will allow us to call upon its expertise. We look towards the future with great confidence."