LR Tankers Taken for Gasoline Storage in Asia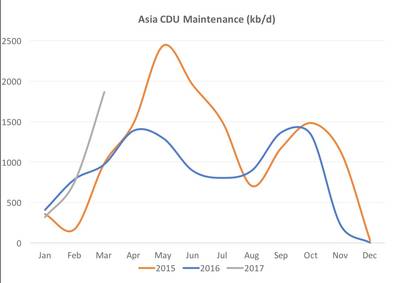 Long range tankers taken for storage on expectations of tighter Asian gasoline market
Singapore gasoline cracks have averaged $10.72/bbl in February so far, down by 12 percent y-o-y but still relatively firm. Robust demand from the
Middle East
and intra-Asia as well as a flurry of both planned and unplanned refinery outages have been supporting gasoline cracks. ADNOC recently bought nine 27 kt cargoes over March-April delivery as its 127 kb/d RFCC remains shut from a fire. The shutdown of Pertamina's 125 kb/d Balongan refinery and TPPI's reformer in Tuban also led to firm buying
from Indonesia
, Asia's largest gasoline importer.
Singapore onshore light distillate inventories hit their lowest point in 5 weeks, falling by 1.54 mmb to 12.76 mmb for the week ending Feb 15 despite net imports of 404 kb. The decline in onshore stocks could be attributed to traders turning to chartering vessels instead for gasoline storage. At least four LR2 tankers have been placed on short-term time charters of up to 90 days at rates around $11,750/day.
Upcoming peak refinery turnaround season as well as an expected spike in summer demand will further tighten the Asian gasoline market over Q2 2017. At least 1.8 mmb/d of refining capacity in Asia is likely to be offline in March, up by 85.4 percent y-o-y. Heavy maintenance at state-owned refineries in China accounts for around 1 mmb/d, which may put a dent in gasoline exports. We may see a surge in arbitrage cargoes from the West should ample inventories in the Atlantic Basin incentivize traders to move some barrels to Asia.
The Author